Unfortunately, carpooling platforms often fail because of a kind of chicken-and-egg problem: How do I get the right balance between drivers and passengers? A balanced marketplace of ride offers and requests is the prerequisite for a healthy, high-demand ride-sharing platform. With Pave Commute, we introduce an alternative approach that is both simpler and more effective.
Carpooling platforms optimize motorized individual transport by bundling it. In principle, this works even without the internet, high tech or apps. Think of the '68 generation, for whom hitchhiking was quite common, or carpool benches, which cleverly turn bus stops into entry points for carpools. 
From the 2000s onwards, the spread of the Internet has made it possible to simplify the search for carpools enormously. First and foremost is the BlaBlaCar platform, by far the largest carpooling platform in Europe, where medium and long distances can be covered by carpooling. There are now a considerable number of ride-sharing platforms that use state-of-the-art data processing to bring together ride-sharing offers and requests. However carpools are formed in the future, modern technologies will play an important role.
No, a marketplace is not the only means...
…to form carpools. We know from our own experience as operators of the corporate carpooling app Carployee what challenges a marketplace of ride offers and requests brings with it. Often, one is confronted with a kind of chicken-and-egg problem: How do I attract drivers and riders at the same time to achieve a balance of supply and demand? 
Commuters, in particular, like to advertise ride offers, as this gives them a good conscience, even if no one books the ride. As a passenger, you supposedly lose flexibility and comfort, and after all, your own car is waiting for you, right? Car owners are often not prepared to act as passengers in the ride-sharing marketplace, which is why there are usually too many offers and too few requests. This leads to an enormous imbalance in the marketplace with few carpools as a result. 
A marketplace is therefore an unfavorable platform for forming carpools. This is also due to the high level of interaction required, since users act independently as market actors. Carpooling platforms usually require a high degree of manual administration on the part of users to create or search for rides. For irregular rides, this can be tolerated, but for daily commutes, the coordination effort should be as minimal as possible. The marketplace issue is one of the reasons why carpooling has yet to play a significant role anywhere in daily commuting. 
Space, time, complexity: where else things go wrong
However, the marketplace is not the only reason for the hesitant spread of carpooling platforms. Of course, there are other crucial factors such as time and space. If there is no overlap in time and space, a perfectly balanced ratio of offers and requests is of no use.
Furthermore, unaffiliated users struggle with the complexity of some ridesharing apps. The demand to offer people of all social classes and age groups an intuitive and self-explanatory user interface is a challenge for providers of ridesharing services. Of course, this does not mean that this claim should be lowered. Ultimately, it is about sustainable mobility for all people at affordable conditions and in sufficient availability.
He who has a hammer sees nails everywhere
Speaking of sustainable mobility for all, a resilient, versatile mobility system always requires looking at all modes of transportation. Carpooling should never be discussed in isolation from public transport and cycling. Conventional ride-sharing apps, however, usually fail to recognize the potential of combining carpooling with other modes of transportation in a meaningful way. Biking a few hundred meters to the carpool meeting point is reasonable, isn't it?
Starting a carpool at a transportation hub makes sense and, with the right coordination among each other, is practical. Looking at the big picture sometimes requires insight into where a particular mode of transportation makes no sense at all. Some people are simply better off biking or using public transit than carpooling. 
We do not match commuting journeys, but commuting habits
With Pave Commute, we are introducing a completely new approach to carpooling: We bring together people with similar driving habits, without the hassle of carpooling or ride-sharing. In this way, we fully exploit the potential of carpooling. At the same time, we also take into account other means of transport where this is possible and makes sense. Ultimately, the commuter benefits from a better mobility offer.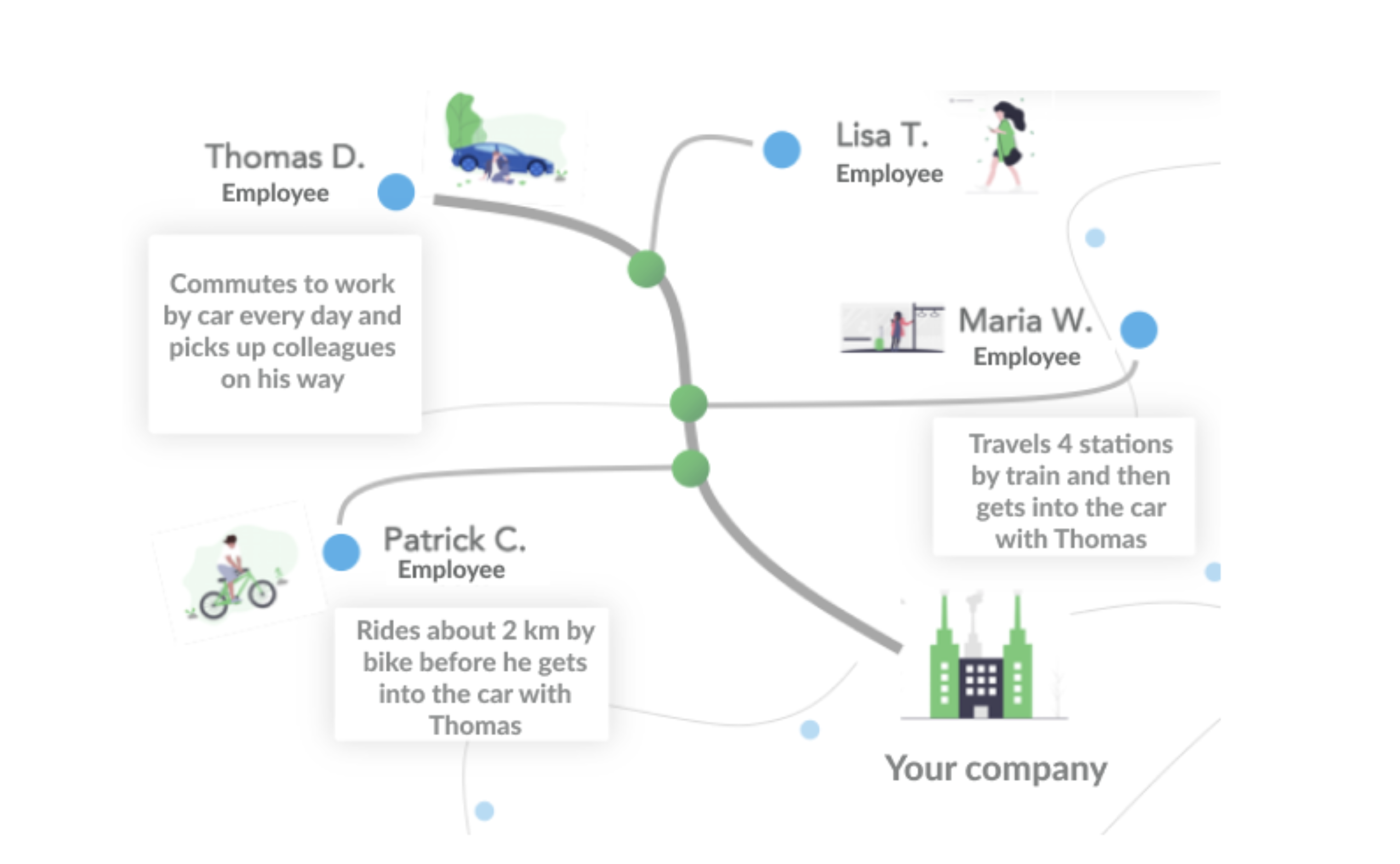 A better ride to work for your workforce
As an employer, it is important for you to support all your employees equally. Not only carpooling but also commuting by bike, on foot or by public transport should therefore be made more attractive and incentivized. 
Pave Commute combines personalized mobility recommendations, targeted rewards and appealing design into an all-in-one commute app that strengthens togetherness in your company.
We help companies of all sizes implement sustainable employee mobility strategies. Talk to us today!