Campus 21: A model for modern mobility in business parks
Over 1,300 employees from 150 companies will have access to sustainable mobility options for their daily commute to work from May 2023.
Mobility Roadshow on May 9th
In the EMP2EMP (Employer2Employee) project, a consortium of companies in the mobility sector has been working for a year together with Business Park Campus21 and the more than 150 local companies to sustainably improve commuter mobility.
As a kick-off for the next project phase, a large Mobility Roadshow with information booths and on-site test drives will take place on May 9, 2023. From that day on, our mobility app Pave Commute will be available to all 1,300+ Campus 21 employees free of charge. Pave Commute facilitates the switch to sustainable mobility and offers employees attractive rewards.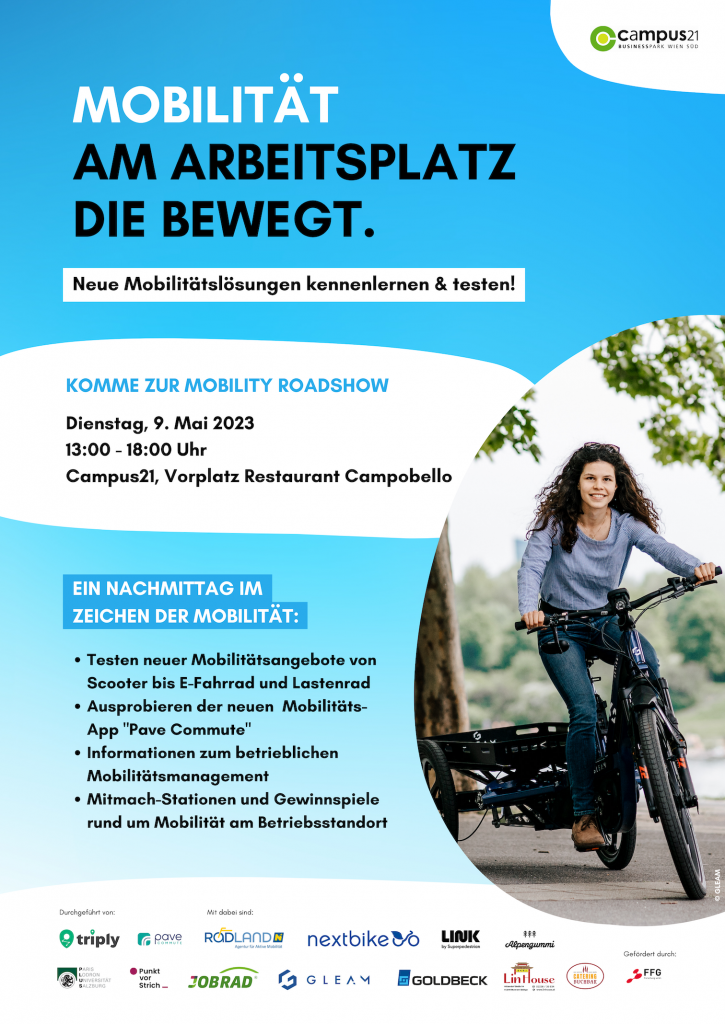 EMP2EMP is a project funded by the FFG (Austrian Research Promotion Agency), which highlights the synergy effects of companies at the same location to improve the commuting mobility of their employees.
In a group of companies, the CO2 footprint of the daily commute to work can be reduced more efficiently, e.g. by fully exploiting the potential of carpooling through cross-company networking. But mobility by bicycle, e-scooter or public transport is also a promising alternative to the private car.
As a workplace of over 1,300 people, Campus21 can send strong signals to policymakers and lobby local transport operators to adapt public transport schedules in a user-centric way. In this research project, all means of transportation are evaluated and their targeted use is tested in practice.
Join now and benefit on the way to work
Does your everyday life take you to Campus21 on a regular basis? Then you've come to the right place!
Pave Commute will be available to all local organizations as part of the research project for 6 months starting in May 2023. Don't forget to enter the raffle!
You can find more information about the app here: How does Pave Commute work?
Your mobility wish at Campus21
Do you have any questions or suggestions about this project or the mobility services on site at Campus 21?
Contact us anytime at richard@pavecommute.app!
Your company wants to contribute to sustainable mobility on Campus 21?
As sponsors, companies have the opportunity to provide vouchers in the app and thus contribute to climate-friendly commutes.
For more information on our sponsorship offer: lisa@pavecommute.app