Sustainable Development Goals (SDGs) represent the foundation of the United Nations (UN) plan to achieve a sustainable framework for global development by 2030. With respect to commuter policy, the UN's SDGs and employee transportation interact in several important ways. Employers can use SDG frameworks to guide their development of sustainable commuter programs.
Interactions between SDGs and employee transportation
Each of the 17 SDGs is identified by its own unique number. SDGs with strong and direct ties to employee transportation include SDG 3, SDG 11, SDG 13, and SDG 15.
SDG 3 endeavors to "ensure healthy lives and promote well-being for all, at all ages." Several of its 13 sub-objectives relate directly to commuting. For example, SDG 3's sixth sub-objective (SDG 3.6) focuses on reducing road traffic in order to address high accident-related fatality rates.
In 2021, the Insurance Institute for Highway Safety recorded 39,508 motor vehicle accidents involving fatalities in the United States. A total of 42,939 people died in those crashes.
In the European Union, 19,917 people died in traffic accidents in 2021. The total marked a significant increase of 5.7% over 2020. 
SDG 3.6 aims to cut traffic fatalities in half by 2030. Employers can encourage progress toward this SDG via employee transportation policies that reduce reliance on driving.
Alternatives include:
Public transportation

Active commuting

Telecommuting
Active commuting also represents a distinct link between the SDGs and employee transportation. Cycling, jogging, and walking all directly advance SDG 3's core goal of ensuring "healthy lives" and promoting "well-being for all."
Research reveals that employees who bike to work take an average of one less sick day per year, compared to peers who only drive. A 2020 study published in the prestigious medical journal The Lancet found that bicycle commuters were 20% less likely to die of any cause than those who drive to work.
Some of the tools and strategies employers can use to support active commuting include:
Creating facilities for active commuters, such as showers for freshening up and lockers for storing active wear and equipment

Offering secure on-site bicycle lock-up areas

Introducing a

guaranteed ride home program

to cover active commuters in case of emergencies or bad weather
SDG 11 strives to "make cities and human settlements inclusive, safe, resilient, and sustainable." This involves reducing the carbon emissions and pollution associated with motor vehicles by shifting people toward more environmentally friendly transportation alternatives.
Notably, SDG 11.2 focuses on providing "access to safe, affordable, accessible, and sustainable transport systems for all" by 2030. Specifically, it seeks to locate a higher percentage of the global population within half a kilometer (0.31 miles) of a public transit option with a minimum service frequency of every 20 minutes.
Public transit coverage and frequency tend to improve as demand for service rises. That demand, in turn, is fueled by ridership. As ridership increases, so does investment in public transit networks and services.
With respect to SDGs and employee transportation, employers can encourage commuters to make more frequent use of public transit by:
Offering subsidized or free monthly transit network passes to commuters

Equipping commuters with

route planners

and other access management tools

Creating incentives and rewards for commuters who regularly use public transit to get to work
SDG 13 represents one of the strongest links between SDGs and employee transportation. It calls on the global community of nations to "take urgent action to combat climate change and its impacts."
The University of Michigan's Center for Sustainable Systems reported an average vehicle density of just 1.5 people per vehicle in the United States in 2019. In Europe, vehicle occupancy rates have followed a downward trend for half a century, falling from the 2.0 people per vehicle range in the early 1970s to about 1.5 people per vehicle two decades later. European statisticians also tied the lowest recorded vehicle occupancy rates specifically to work-related commuting.
To make headway on SDG 13, UN member states need to proactively encourage mode shift. This involves reducing reliance on privately operated vehicles in favor of shared and sustainable alternatives.
With regard to SDGs and employee transportation, businesses can encourage mode shift by:
Introducing commuter challenges, gamification programs, and appealing rewards for employees who stick with sustainable commuting for the long term

Operating in-house

ridesharing programs

that directly link commuters with shared transportation options

Supporting remote and hybrid working opportunities

Strengthening organizational support for public transportation and active commuting
Ridesharing in particular has the potential to generate powerful secondary benefits. It creates stronger social ties among commuters, which can improve job satisfaction and lead to higher retention rates. Ridesharing also eases the feelings of isolation and disconnectivity common to the solo driving experience, which negatively impact mental health.
SDGs and employee transportation are also impacted by the UN's 15th sustainable development goal. This goal pledges to "protect, restore, and promote sustainable use of terrestrial ecosystems." Observers commonly refer to SDG 15 as aiming to protect "life on land."
In high-income countries with advanced economies, road construction and parking lots account for significant percentages of land development. For example, approximately 810 hectares (2,000 acres) of arable or forested land are sacrificed in the United States each day to urban development needs.
Meanwhile, European officials have documented dramatic losses in arable land in recent years, with experts citing climate change as a major catalyst. In many other high-income countries, land is already at a premium, and also under relentless pressure from population growth and ongoing urbanization.
In addition to encouraging ridesharing, employers can take meaningful steps to reduce parking demand. When executed on a mass scale, this can inhibit land conversion rates in support of progress toward SDG 15.
Parking cash-out programs are an excellent way to reduce employee demand. These programs offer financial rewards to commuters who voluntarily relinquish their parking privileges.
In addition to reducing demand for physical parking space, parking cash-out programs can result in significant savings for employers. As fewer commuters arrive at work by car, businesses reduce their parking-related construction, maintenance, and rental costs. 
How can companies implement the SDGs?
Comprehending the SDGs is the initial and most crucial step in effectively incorporating the sustainability goals. The subsequent steps should be perceived as a recurring process for companies.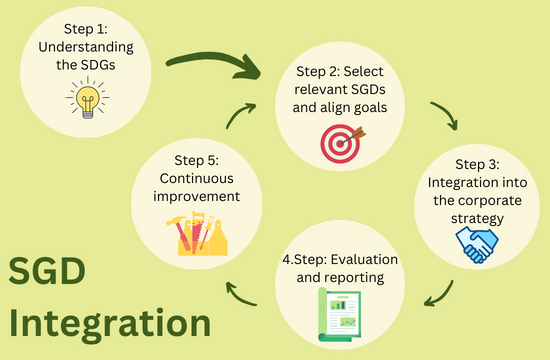 How Pave Commute Empowers Sustainable Approaches to Employee Transportation
With several of the UN's SDGs and employee transportation going hand-in-hand, employers have an impactful role to play in building a more sustainable future. The award-winning Pave Commute app equips businesses and their people teams with powerful tools for making long-term changes in support of the planet's health.
Among many other commuter supports, Pave Commute provides:
Route planning tools for public transportation users and active commuters

Direct access to organizational rideshare programs

An enriched set of features supporting gamification, commuter challenge, and rewards programs
Organizations can launch a turnkey Pave Commute program in minutes, with just a few clicks. To learn more, please schedule a demo of the Pave Commute app or check out our affordable and accessible pricing plans.